Newsportal - Ruhr-Universität Bochum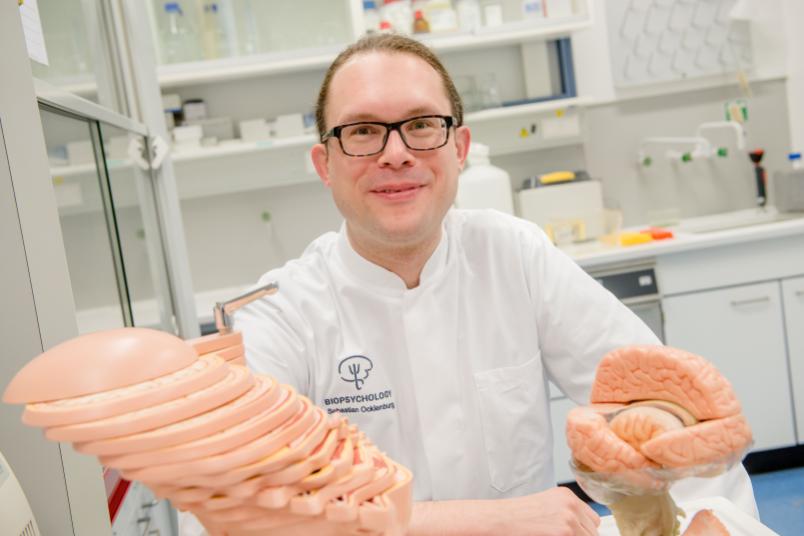 Symmetry is not everything, according to Sebastian Ocklenburg.
© RUB, Marquard
What fish and pigeons can teach us about handedness
Left-right differences in the brain are not unique to humans. This has been proved in studies with various species, for example with pigeons at Ruhr-Universität Bochum. In a review article published in the journal Neuron, biopsychologists Prof Dr Dr h. c. Onur Güntürkün and assistant professor Dr Sebastian Ocklenburg have compiled evidence that supports this claim and enables novel conclusions how asymmetries in humans originate.
From worms to humans
Asymmetries are wide-spread in the animal kingdom – not just in vertebrates, but also in lower animals such as starfish and worms. Those asymmetries might include functional specialisations in the nervous system, asymmetric arrangement of internal organs, or a preference for using the right or the left extremities.
"If a feature is as wide-spread as asymmetry in the animal kingdom, it is not far-fetched to assume that there is a shared origin in phylogenetic history," write Güntürkün and Ocklenburg. However, the evaluations of studies to date had not provided any evidence for this theory. "Rather, asymmetries appear to be the result of adaptation to local environmental conditions," according to the authors. For example, right-left differences in the brain might pay out, because more functions can thus be carried out simultaneously than if areas in both hemispheres perform identical tasks. These insights were only possible by a combined analysis of asymmetrically organized brain systems in different animals.
What animal studies reveal
Many findings relevant for right-left differences have been gained in animal studies, because the processes are more difficult to investigate in humans. In Bochum, Onur Güntürkün has been researching into the causes of asymmetries of the visual sense in pigeons for many years. "They are the primary model for analysing in what way environmental conditions might generate asymmetries," explains Güntürkün. An explanation for the dominance of one eye in pigeons, for example, is the light irradiation through the eggshell during embryonic development that affects the right eye. Thus, minute environmental stimulations can induce a lifelong asymmetrical organization of the brain.
In their article, Sebastian Ocklenburg and Onur Güntürkün also provide an overview of the work with zebrafish. A specific brain region, namely the epithalamus, shows marked differences in the right and left hemisphere that affects the probability that individual fish win a fight or give up as soon as a competitor attacks. A number of studies have been conducted to identify the genes and signalling pathways that cause that asymmetry. "The findings have been also indicative of mechanisms that cause right-left differences in humans," says Ocklenburg.
More than a gene
For a long time, researchers had assumed that handedness in humans is determined by one single gene. This view has changed since the sequencing of the human genome. The biopsychologists from Bochum provide an overview of studies that identified various genetic factors of asymmetries. They conclude that a large number of genes, each with rather weak effects, constitute the genetic basis of human handedness. Moreover, they point out that environmental influences might play a more vital role than genetic factors. The underlying molecular mechanisms, however, have not yet been understood.
Funding
The German Research Foundation finances Onur Güntürkün under the framework of the Collaborative Research Centre 874 and the Gu227/16-1 grant.
Press contact
Prof Dr Dr h. c. Onur Güntürkün
Department of Biopsychology
Faculty of Psychology
Ruhr-Universität Bochum
Phone: +49 234 32 26213
Email: onur.guentuerkuen@rub.de
Assistant professor Dr Sebastian Ocklenburg
Department of Biopsychology
Faculty of Psychology
Ruhr-Universität Bochum
Phone: +49 234 32 24323
Email: sebastian.ocklenburg@rub.de
Published
Thursday
20 April 2017
9.24 AM
By
Julia Weiler
Translated by
Donata Zuber