Newsportal - Ruhr-Universität Bochum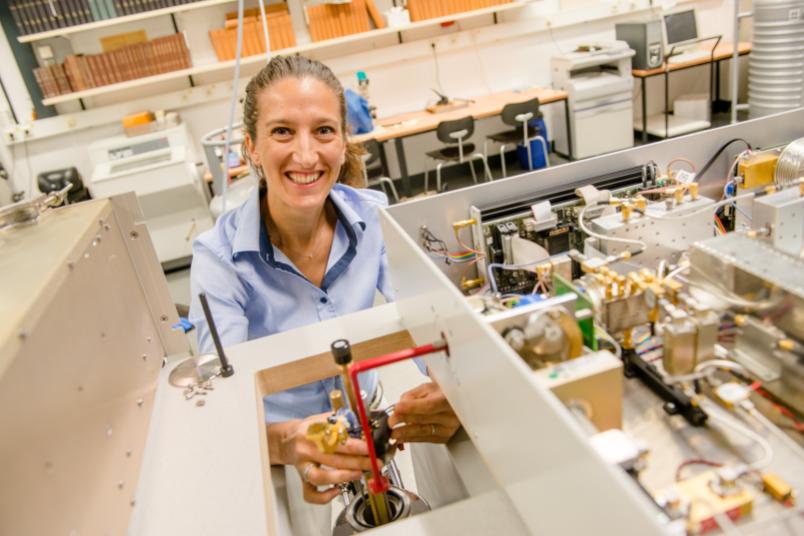 Enrica Bordignon works with a complicated experimental setup. However, it provides data that is easy to interpret.
© RUB, Marquard
How bacterial proteins transport energy
Researchers have clarified in detail how certain bacteria can transfer energy between their inner and outer cell membranes with the aid of a protein complex. The complicated Ton protein system is responsible for the energy transfer, but its exact composition has been unknown up to now. The team, which also includes RUB chemist Prof Dr Enrica Bordignon, has published the results in the journal "Nature".
Ton collects energy at the internal membrane and transfers it to proteins in the outer membrane, where it is needed to import nutrients. The protein system is found, for instance, in the bacterium E. coli, as well as in some pathogenic species. Researchers have long discussed how many components make up the Ton complex and how they interact.
All the actors identified
The authors answer these questions in the Nature study using a combination of various methods. They identified three crucial components in the Ton complex: one of which is a pentameric protein in the internal membrane, which possesses a pore in the centre. This pore accommodates a helix structure of another dimeric protein. This complex in turn, interacts with an additional protein, which is responsible for the actual transfer of energy to the outer membrane.
"Before our study, we only had a very rough idea of the interacting players," says Enrica Bordignon. "Through the synergies in the collaboration between the various groups, we now have a detailed and experimentally proven model of the three actors in the Ton complex."
Bordignon cooperated, among others, with researchers from the American National Institutes of Health in Bethesda and Purdue University as well as with researchers from the Institut de Microbiologie de la Méditerranée in the French city of Marseille. At RUB, the work was conducted as part of the cluster of excellence Resolv.
Various methods combined
In order to clarify the processes in detail, one method was not sufficient. The group thus first applied X-ray structure analysis to obtain a static three-dimensional model of the proteins. Then Bordignon used electron paramagnetic resonance spectroscopy, of which she is an expert, to analyse how proteins interact in this large protein complex.
"The Ton system is a huge complex of eight proteins," explains the Bochum-based scientist. "But thanks to the high resolution of our machines at RUB, we were able to interpret the data easily."
Original publication
Hervé Celia, Nicholas Noinaj, Stanislav D. Zakharov, Enrica Bordignon, Istvan Botos, Monica Santamaria, Travis J. Barnard, William A. Cramer, Roland Lloubes, Susan K. Buchanan: Structural insight into the role of the Ton complex in energy transduction, in: Nature, 2016, DOI: 10.1038/nature19757
Published
Wednesday
28 September 2016
11.09 AM
By
Julia Weiler
Translated by
Lund Languages