Newsportal - Ruhr-Universität Bochum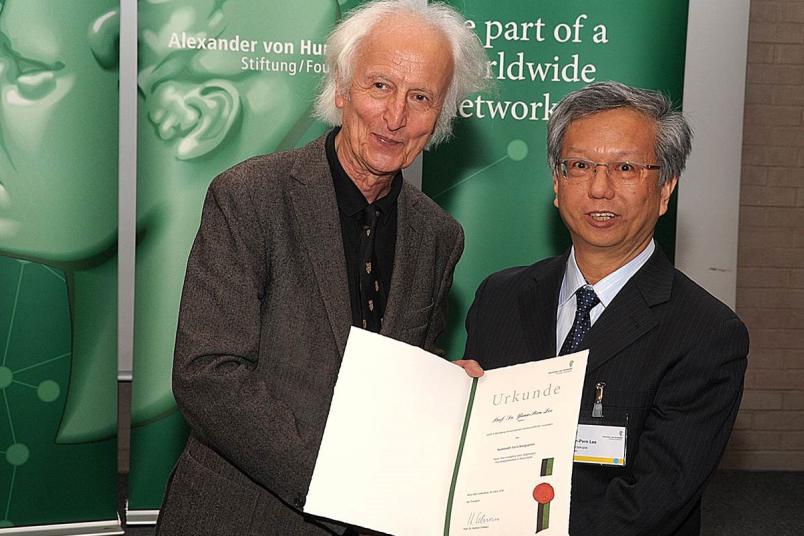 Yuan-Pern Lee received his research award from the President of the Humboldt Foundation Helmut Schwarz in Bamberg on 25th March.
© Humboldt-Stiftung, Barthel Bamberg
Resolv gains reinforcement from Taiwan
Prof. Yuan-Pern Lee from the National Chiao Tung University in Taiwan has been reinforcing the team of researchers at the Cluster of Excellence "Ruhr explores solvation" (Resolv) at RUB since March 2017. Yuan-Pern Lee has received the Humboldt Research Award, which is endowed with 60,000 euros. In Bochum, he will work at the Chair for Organic Chemistry II over the coming months; his host is Prof. Wolfram Sander.
In the Cluster of Excellence Resolv, researchers at RUB, TU Dortmund and the University of Duisburg-Essen work with national and international partners to research the role of solvents in chemical processes.
Key importance to the chemistry of the troposphere
Prof. Lee is an outstanding scientist with vital contributions in the fields of ultra-low temperature and ultrafast spectroscopy. His laboratory developed ground-breaking techniques to utilise parahydrogen as environment to study reactive intermediates that are of key importance to the chemistry of the troposphere, of combustion, and of astrochemical processes. Due to Prof. Lee's contributions, it is now clear that the previously unidentified "X factor" in tropospheric chemistry must be assigned to the elusive "Criegee Intermediate" CH2OO. This important discovery lays the ground for more reliable models of tropospheric chemistry. Prof. Lee will help to establish his pioneering techniques in several laboratories at German Universities.
Published
Monday
3 April 2017
2.59 PM
By
Arne Dessaul
Translated by
Lund Languages